Referral Rewards Program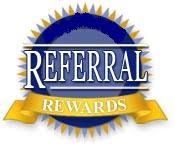 Introducing Our User-Friendly Referral System
Refer your friends, co-workers or family to contact us
Make sure they reference your name and tell them they will receive a 10% Discount and Free Shipping with your referral
You receive a $100 Credit on your account with us when they place their first order
Your Rewards Credit can be used towards tickets purchased from us for any event , they never expire and, best of all, there is no limit to the number of credits you can earn.
There are no codes to use and no forms to fill out. You will be notified by email of the credit when it is automatically applied to your account.
If you have business contacts you feel are potentially major users of our service, please contact your Relationship Manager to explore expanded opportunities for ongoing rewards.
We specialize in creating customized corporate entertainment solutions for B2B sales teams.